Man behind the Venture:
Mr RAJAT AVASTHI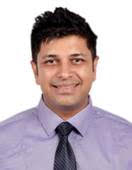 The planner behind the brands a firm believer in "Effective Guiding-Learning Process" and he is known for communication with zest and energy that is highly contagious. He is a successful entrepreneur with MBA from Coventry University, UK and Computer Graduate from Punjab University, Chandigarh. He has worked with eclectic spectrum of companies on the Indian and International arena. He has a rich experience of twelve (12) years in Student Counseling/Visa, Management, Leadership, Training, Business Development, Customer Relationship Management and Operations.
The counseling sessions on career development and trainings on communication skills, presentation skills, personality development and interview skills conceptualized and presented by him in prestigious schools and colleges of Chandigarh, Punjab, Haryana, HP and Jammu & Kashmir, are power-packed with result-oriented content, engaging activities and humour. He is well received by his audience as he always shares relevant examples that connect well to them as a part of their mundane life.
Anupbringing of living, working and studying abroad, has always inspired him to pursue his business in the Study Abroad Consulting domain. While attending numerous trainings in companies he worked with, he has also undergone specialized trainings at various universities around the globe. Some of the trainings with his detailed profile are:
Trainings/Events/Workshops
1. Successfully completed Agent training at University of Brighton, UK
2. Participated & well received by University of Melbourne in counselor workshop
3. Attended Agent training at EASB, Singapore.
4. Appreciation Certificate from Punjab Technical University (PTU) Punjab & Punjab Unaided Technical Institutions Association for organizing Technical Education Summit, held at Mohali, Punjab.
5. Appreciation Certificate for organizing a Cancer Awareness Walk, held at Chandigarh.
6. Successfully completed an Advanced training program on "Role of Emotional Intelligence & Competency Mapping in Organizational success organized by PHD Chamber &Konrad-Adenauer-Stiftung, Germany.
7. Advanced training program on "Managing people successfully" organized by PHD Chamber &Konrad-Adenauer-Stiftung, Germany.
8. Appreciation Certificate for organizing Women's Equality day for Ind-Swift Ltd